Certification Training for Partner
July 06 - July 08, 2011
Appointments
Wednesday, 7/06/2011 until
Friday, 7/08/2011
Contents
This training seminar is intended for CRM-Project sales partners who aim to obtain the Silver Certification. The Certification identifies you as approved CRM-Project experts.
The participants will get all the information and practical knowledge for successfully and safely marketing the 4th Module and the related services such as workshops, customizing, etc. Starting with the features, the training continues with the proper use of all templates and concludes with arguments for easy sales.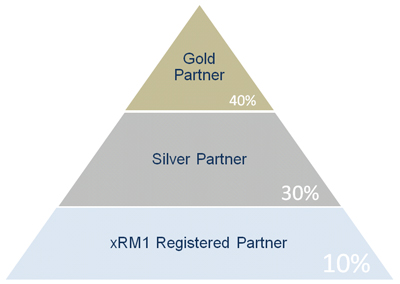 July 06 and 07, 2011: CRM-Project Application I:
This training is the basis for a fundamental understanding of CRM-Project. It provides CEOs, sales representtives, pre-sales consultants, project managers and developers with a description of the features of the 4th Module. Thus, you will be able to reason and answer questions more confidently when consulting a customer.
The coach will show all features and will gladly answer any questions during the whole training. You will be using the essential features yourself while getting useful hints time and again for applying the integrated solution at the customer's site. The following topics will be elaborated:
Project Planning
Resource Management
Project Management
Program Management
Time & Work Registration
Travel Management
Order-, Product- and Servicemanagement
Accounting & Billing
Absensemanagement
Cost Management
Reporting System
Mobile Extensions
Interfaces
Installation & Configuration
administration basic informations
Second level support
July 8, 2011: CRM-Project Active Sales I:
The 3rd training day is geared towards sales representatives and consultants. The following topics will be elaborated:
Sales support by the manufacturer
Effective webinars regarding the 4th Module
Easy Sales
Talking about benefits and ROI
Application of the available templates
In addition, the coach gives useful tips and tricks for successfully and easily marketing CRM-Project.
Your investment
Your investment for participation is € 200.00 per participant per day. Of course, you can also book each session for a different employee. For Silver Certification, the sessions need to be attended in full on all the three days. Thus, we can jointly ensure that your company will have the essential knowledge for the successful sale of CRM-Project and the resulting services.
Services included
Participation in the training
Seminar material
Beverages
Lunch

Requirements

Basic knowledge of Microsoft Dynamics CRM is required.

Target group

Consultants and sales representatives of CRM-Project partners

Language

German

Venue

Würzburg, Germany

Registration

E-Mail Form

For more information, please feel free to contact us directly: phone: +49 (931) 66084-111